Description
Hold on to you seat sports fans, I am submitting a model that was built straight from the box! I needed to do something simple after a mammoth superdetailed P-47 project.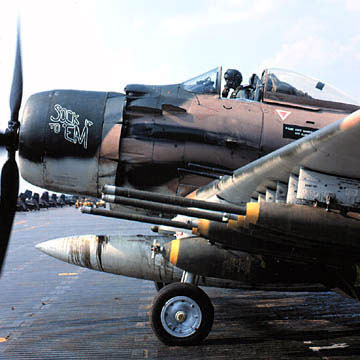 This was still no weekend project though, taking about 50 hours from start to finish.
The model is Tamiya's 1/48 A-1J Skyraider. There is not much to say about it.
I did borrow a napalm canister from the Hasegawa weapons set. About the only other modification I made to the kit was punching out the individual instruments from the decal and inserting them into the panel. It gave a much neater appearance than applying the decal ever could.
This kit has a bad flaw, a very flat dihedral, but I didn't catch it until the wings were already on and the aircraft painted. Shame on me. If you look at all the Spads in the HyperScale Gallery, every one is flat except Franck Oudin's and he fixed his. Unfortunately, the damage I would have to inflict on the model to remove the wing and fix it just wasn't worth the effort.
I used the kit decals and Model Master enamels.

One odd thing about this particular aircraft was it had silver wheels with a white axle cover (see reference photo above). That one is bound to give the judges a fit!