Description
Here are some photos of my P-51B Mustang dressed up as "Snoots Sniper". The kit is the Academy 1/72 Scale P-51B.

I used the Eduard's photoetched set and a True Details seat.

The tiny landing gear struts were extensively modified. Brake wires are added. The oleo scissors are cut off and the PE replacements used. The PE tow rings are also used.

The drop tanks have the filler cap drilled out and the PE part attached in the open position, ready to be fueled.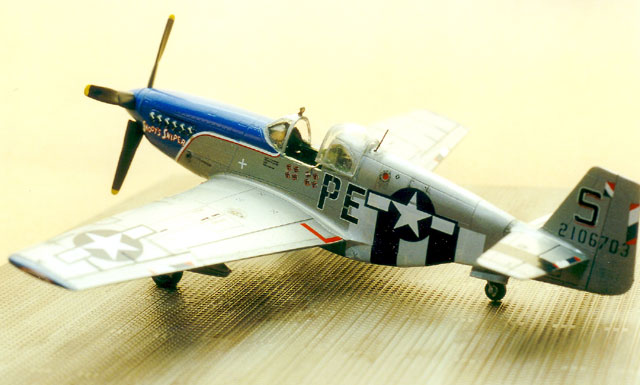 I painted the kit with Model Master enamels and sealed the finish with Model Master Metalizer Sealer. Decals are from Aeromaster "Blue Nose Birds of Bodney"

After building several 1/48 scale aircraft, this was my first attempt at a 1/72 scale single engine aircraft. I was quite pleased with the result. I hope you enjoy it too.