Introduction
This is Draco the Dragon from the movie, Dragonheart. The kit was released by Revell but is now out of production. It is presented in approximately 1/30 scale.

Construction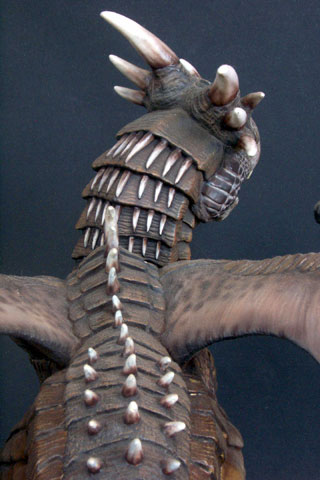 The main dragon figure is moulded in vinyl, as is the base. The figure of the Dennis Quaid character is supplied in white metal.
The techniques for building a vinyl kit are not complicated, but they are slightly different to a hard styrene model.
Vinyl parts are quite flexible and relatively lightweight for their large size, so some reinforcement is advisable. The base was filled with Plaster of Paris, as were the legs of the Dragon. This lent some weight and rigidity to the finished model.
The seams of the soft vinyl parts were cleaned up using a sharp hobby knife. Following this simple preparation, the small number of parts were joined with super glue.
White Milliput (a fine grain two-part epoxy putty) was used to fill the gaps at the joins. The joins between the wings and the body required some extra work due to poor fit.